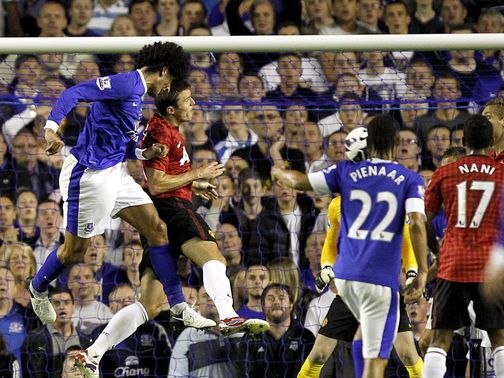 So the new season begins with every Manchester United and Everton fan having to wait a day longer than everyone else to see what's in store. Much of the pre-match talk was about new singing Robin Van Persie which detracted away from Manchester United's defensive 'crisis'. I put that in quotes as it's become so repetitive that it can't be called a crisis but more of a foregone conclusion. This would make it the third season in a row that there is a make-shift back four and to be honest, I'm at a loss to see how it can keep happening. Some may call it bad luck, others might see it as the defenders being made of glass (yes Rio, all eyes are on you when it comes to that). I just see it as inevitable. If it had not been for Vidic, who was surely not 100% fit, then who knows what could have been.
After the 4-4 draw last season this was never going to be an easy game. I remember the 3-3 at Goodison not so long ago and Everton have since been a thorn in Manchester United's side. You'd have thought lessons would have been learnt from that game at Old Trafford last season: Fellaini ran the show, Jelavic is a competent player and David Moyes knows how to set a team up to soak up pressure. So after the game the same thoughts are still in everyone's head. Regardless of the new signings, Manchester United looked inept in front of goal and that's probably the only difference to the 4-4 draw. Possession stats are nothing if you can't score, ask any Arsenal fan. How Carrick is left to mark a player who single-handedly destroyed United last season at a corner is beyond me. Fellaini was a beast on Monday night and he overshadowed a midfield three of Cleverley, Scholes and Kagawa all on his own.
Same old story
All United fans have been told of the importance of Cleverley and at times I can see it but he needs to relax. From what I saw on Monday, he's that guy you play football with that passes the ball too hard just to test your touch. I lost count of the amount of times I saw him ping the ball with excessive force at a colleague that it was just a matter of time before he over-hit one. His potential is there to see but this looks like another season of him trying to fulfil it rather than fulfilling it.
Nani was again frustrating. Many fans are calling for his head but when he's on his game, he's one of the best attacking players United have. It's unfortunate that Valencia was hindered by playing in defence but this was Nani's chance to show he can match the Ecuadorian on the right wing and that's something he failed to do. His early booking only showed us the petulant side everyone knows he has and it's a shame. How he can be brilliant in one game then disappear in others doesn't make sense. The same goes for his crossing as sometimes he can beat the first man and most of the time he can't. Highly frustrating but isn't everyone used to it now?
Rooney looked overweight and unfit. Reading the post-match articles with many writers claiming his first touch was off but in my personal opinion, he's never really had a good first touch. There's more games I can count where his touch was off than games where it wasn't and that speaks volumes. His shirt was completely soaked about 20 minutes into the game and for a player to have Robin Van Persie breathing down his neck, he needs to have a reality check. Van Persie just turned 29 and there's not an ounce of fat to be seen, the mark of a true professional. So less time on the golf course Wayne and more time doing some cardio might help everyone, including yourself. He should take Anderson along with him as he's just getting bigger and bigger and not in a good way either. He recently spoke of his love of pies, the less said, the better.
Welbeck has matured from his stint at the Euros but I don't believe that merits a first-team spot, especially when it's on the left wing. Rafael and Young were on the bench and surely it made sense to have two orthodox wingers playing as United looked disjointed with no real cohesion. I've never enjoyed a striker playing on the wing and at times it makes sense if you're good enough and right now, Welbeck isn't that player. Rooney can do it as he's someone that could play anywhere but he was only forced out wide due to the remarkable Cristiano Ronaldo. Welbeck, however, is only effective in the centre and the 4-2-3-1 formation played on Monday didn't suit him at all. This change in formation is to incorporate a new type of player that hasn't been seen at Old Trafford for a while and his importance is paramount.
Shinji Kagawa was the shining light on Monday and I can see a big future for him. Over 90 minutes I haven't seen someone in a United shirt since Ronaldo ask for the ball so much or find space to receive it. My personal opinion is that he will be key to to Manchester United's title push.
This may sound completely negative but United have started this season the way that last season ended. Defensive injuries, an unfit Rooney and a lack of cutting edge. It was pure luck and the maturity of De Gea that stopped this being a complete rout by Everton. Yes Everton away is a tough game, but it's rare to be completely outplayed by them in terms of goal scoring opportunities. Tim Howard wasn't really tested and when there is an attack consisting of Rooney, Van Persie, Nani, Young and Kagawa you would expect a bit more in front of goal. Things need to change pretty quickly otherwise Manchester City and Chelsea will be out of sight leaving United with a mountain to climb.
Here's hoping that Fulham at Old Trafford is a different story.